Tsukuyomi: Moon Phase [TV]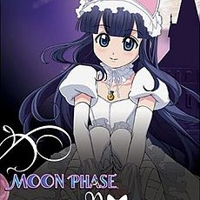 Plot Summary
You are viewing an unapproved revision.
The story is about the relationship between freelance photographer Kouhei Morioka and Hazuki, a teenager who descends from a royal vampire lineage. At the beginning of the story, Kouhei travels to a castle in Germany to take photographs of paranormal phenomena for his friend Hiromi, who is the editor of an occult magazine. At the castle, Kouhei meets Hazuki, who feeds on Kouhei's blood and claims him as her unwilling servant. Although this "blood pact" is supposed to bind Kouhei to Hazuki as her obedient slave, her act has no effect on Kouhei. Following an action-packed sorcerers' battle in which Kouhei and his cousin manage to free Hazuki from her captivity in the dreary castle, Hazuki travels to Tokyo, and takes up residence with Kouhei in his grandfather's house in Japan. Hazuki claims that, because she fed on his blood, Kouhei is now her servant, but Kouhei continually refuses to obey her, especially when he thinks her requests are unreasonable. Despite their fighting, the relationship between the duo progresses over time — even in the face of repeated attacks by opposing vampires — until Kouhei becomes determined to protect Hazuki from the vampire servants of her family, who are determined to retrieve her by whatever means necessary.
486 users added this.
Watched By
Comments