The 2nd Season of the Love Live! School Idol Project TV anime.
951 users added this.
The story begins with Oomiya Shinobu, a 15-year-old, seemingly pure Japanese girl who actually did a homestay in Great Britain. Even after coming back to Japan, she still misses her time overseas.
203 users added this.
Uranohoshi Girls' High School, a private school in the seaside neighborhood of Uchiura at Numazu city, Shizuoka prefecture. A small high school in a corner of Suruga Bay, it is home to nine teens, led by second-year student Chika Takami, driven by one seriously big dream: To become the next generation of bright, sparkling "school idols"!
242 users added this.

New Sailor Moon anime commemorating the 20th anniversary of Sailor Moon. Usagi Tsukino is a second-year middle school girl who is a little clumsy and a crybaby, but she is full of energy.
526 users added this.
Bishoujo Senshi Sailor Moon is a story about a klutzy, crybaby, 14 year old underachiever named Tsukino Usagi who was given some transformation items and super powers. Usagi transforms into the pretty, sailor suited fighter called Sailor Moon to fight against evil.
4245 users added this.
In the magical world of Jewel Land, three magicians turned the Jewelpets into Jewel Charms so they can rest calmly in the Dream Forest while cleaning the town, with the exception of Ruby, a white rabbit who likes to goof off. But during the pelican's delivery of the charms in the forest, a strong wind blew him off, causing the Jewel Charms to scatter all across Takaragaseki City on Earth.
16 users added this.
Set after the events of the first season, the intergalactic fleet led by the malevolent Queen of Darkness Victorious unleashed a devastating attack on Sound Planet in the future, causing total destruction on Midi City. Upon its destruction, a mysterious band named Bud Virgin Logic appeared and performed a malevolent tune to the surviving denizens while Dagger Morse corrupts all the citizens, draining of their sound energy and plunging the city into chaos and despair.
70 users added this.
Cyan Hijirikawa is a first-year high school student who has a good passion for music. However, she is very shy and doesn't have the courage to join the school's music club.
155 users added this.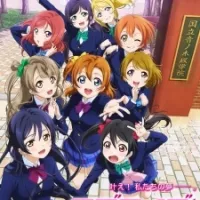 Otonokizaka High School stands on the border of three cities: Akihabara—a pop culture mecca that's evolving by the minute; Kanda—a conservative, cultured city where history and tradition reign supreme; and Jinbo—a quiet area reserved for a more mature, sophisticated population. Amidst this culture clash, the school now faces closure due to the enrollment of fewer and fewer students.
1140 users added this.
Second season of Seitokai Yakuindomo
238 users added this.
Sakuranomiya Maika is, by nature, a person with bad luck and always gets into trouble, but knows Dino, who manages a cafeteria. However, it is not any cafeteria, and the waitresses have to act according to their "attributes.
1034 users added this.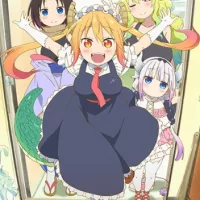 One morning, as office worker Kobayashi gets ready for another day at work, she is greeted by a terrifying sight—the head of a large dragon staring into her eyes from across the balcony. The dragon immediately transforms into a cute, busty and energetic young girl in a maid outfit, who introduces herself as Tohru.
4520 users added this.
Momomia Ichigo, is your average twelve year old girl that is until one eventful date. Her crush masoya ayoama asks her to attend an endangered species exhibit and after a series of events she gets hit by a ray that turns her into a cat.
1374 users added this.
Kuroki Tomoko is a super popular, high school girl who has had 50 years of dating experience and 100 boys… in the Otome game world. In the real world, she is a 15-year-old shut in who has all of the qualities of a "mojo" (a gloomy or unpopular woman).
3373 users added this.