The very first Candy?Boy episode.
340 users added this.
After the second impact, all that remains of Japan is Tokyo-3, a city that's being attacked by giant creatures that seek to eradicate the human kind, called Angels. After not seeing his father for more than eight years, Shinji Ikari receives a phone call, in which he is told to urgently come to the NERV Headquarters, an organization that deals with the destruction of the Angels through the use of giant mechs called Evas.
3556 users added this.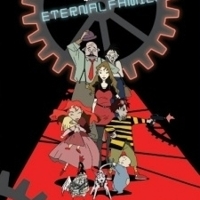 It started as a sociological experiment. 6 different people were brainwashed to think that they were a family and then put in arbitrary situations to see how they would react.
75 users added this.
The story of JoJo's Bizarre Adventure centers around the misadventures of the Joestars, a powerful family with English roots; most of its members attract the most particular trials and tribulations when confronting their enemies. Each member of the bloodline has a star shaped birthmark above their left shoulder blade – Dio and his descendants have this distinguishable mark also, as a result from the 'theft' of Jonathan's body and inheriting the Joestar genes as well.
1639 users added this.
Saito High is a high school with its spiritual beings and a principal whose hobby is collecting occult paraphernalia. The school has the prophecy-chosen members of the Holy Student Council to protect it.
17 users added this.
Amaterasu is the god of light, the future emperor of the Joker Star System. Under the guise of young mecha conceptor Ladios Sopp, he is compelled by an old friend, Dr Ballanche, to save his two latest Fatimas Lachesis and Clotho.
81 users added this.
As the Cowboy Bebop crew travels the stars, they learn of the largest bounty yet, a huge 300 million oolongs. Apparently, someone is wielding a hugely powerful chemical weapon, and of course the authorities are at a loss to stop it.
4763 users added this.
Sequel to InuYasha: A Feudal Fairy Tale..
6410 users added this.
Cat Soup is an extremely difficult film to describe, due to its awesome surrealism and almost nonexistant dialogue. It is more a work of art than an anime.
344 users added this.
Final episode (designated as Episode 8) of Candy Boy which came with DVD volume 2. The episode centres around a day at the pool.
348 users added this.
In the future, a junior high student, Kusakabe Sakura, will offend God by inventing immortality so that women will stop aging after they turn twelve. Dokuro-chan is an angel from the future sent to kill him.
2172 users added this.
First Squad is set during the opening days of World War II on the Eastern Front. Its main cast are a group of Soviet teenagers with extraordinary abilities; the teenagers have been drafted to form a special unit to fight the invading German army.
288 users added this.