Tsukiko Sagi, a shy character designer who created the immensely popular pink dog Maromi, finds herself under pressure to repeat her success. As she walks home that night, she is attacked by an elementary school boy on inline skates.
1790 users added this.
A girl named Rachel wakes up in an unknown place with no memory of how she got there or what her life was. She starts to explore the area and ends of finding a bunch of psychopathic people that each have their own floor in the building that their in.
907 users added this.
The story revolves around a supernatural system where, anyone with a powerful grudge may summon the Hell Girl, a mysterious entity that will exact her client's revenge with the price of damning their own souls to hell after they die. After torturing the cursed target by letting him/her relive inside her/his own cruelty and injustice, Hell Girl ferries the poor soul into Hell, where eternal pain and suffering awaits them.
1355 users added this.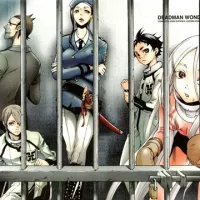 A massive earthquake ravaged Japan's mainland and destroyed most of Tokyo, sinking three-quarters of it into the ocean. Ten years later, the story shifts to Igarashi Ganta, a seemingly ordinary student attending Nagano Prefecture's middle school.
9301 users added this.

Count D is the mysterious caretaker of a pet shop in Los Angeles' Chinatown. Each of D's pets, which all have strangely humanoid appearances, comes with a contract with three major points.
717 users added this.

There is a certain site that can be accessed at midnight. It is said that you will meet Hell Girl once you do.
2099 users added this.
Bloodthirsty demons lurk in the woods, and nobody dares to venture out at night, save for the demon slayer of legend. Surviving in this harsh world, young Tanjirou takes it upon himself to protect his family–until the day that everything is taken from him in a vicious slaughter.
6455 users added this.
Tokyo is burning, and citizens are mysteriously suffering from spontaneous human combustion all throughout the city! Responsible for snuffing out this inferno is the Fire Force, and Shinra is ready to join their fight.
1656 users added this.
Citrus is a Japanese yuri manga series written and illustrated by Saburouta. The series was serialized in Ichijinsha's Comic Yuri Hime from November 2012 to August 2018 and is licensed in English by Seven Seas Entertainment.
555 users added this.
The story follows Yoonbum, a young, mentally ill man with a difficult past. After becoming infatuated with Sangwoo, a peer from his time in the military who saved him from a rape attempt, he decides to enter Sangwoo's home while he is out of his house.
121 users added this.
The story of Jujutsu Kaisen is set in a world where Cursed Spirits feed on unsuspecting humans and fragments of the legendary and feared demon Ryomen Sukuna have been lost and scattered about. Should any curse consume Sukuna's body parts, the power they gain could destroy the world as we know it.
1417 users added this.
The story follows college student Kazuya Kinoshita, dumped by his girlfriend for another guy. He attempts to appease the void in his heart through a mobile app called Diamond to hire Chizuru Mizuhara, a rental girlfriend, to make himself feel better.
382 users added this.
Miyo "Muge" Sasaki is a peculiar second-year junior high student who has fallen in love with her classmate Kento Hinode. Muge resolutely pursues Kento every day, but he takes no notice of her.
136 users added this.
When an island half-disappears from the face of the earth, a mysterious organization sends out invitations for a tournament to every skilled fighter in the world. "If you win you can have ANYTHING you want" they claim.
270 users added this.