Misumi Nagisa is an extremely sporty, popular student who hates studying, and has a very extreme sense of justice, Yukishiro Honoka is a top student who appears to be elegant, but is actually very clumsy. They are both second year students at the Verone Middle School for girls.
231 users added this.
Cyan Hijirikawa is a first-year high school student who has a good passion for music. However, she is very shy and doesn't have the courage to join the school's music club.
155 users added this.
Yato, a minor god, dreams to become the most revered deity in the world with big shrine and all. However, being a penniless god that he is, he has a long way to go and his shinki leaving him doesn't help matter.
7032 users added this.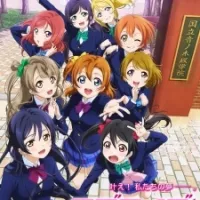 Otonokizaka High School stands on the border of three cities: Akihabara—a pop culture mecca that's evolving by the minute; Kanda—a conservative, cultured city where history and tradition reign supreme; and Jinbo—a quiet area reserved for a more mature, sophisticated population. Amidst this culture clash, the school now faces closure due to the enrollment of fewer and fewer students.
1140 users added this.
The 2nd Season of the Love Live! School Idol Project TV anime.
951 users added this.
In an alternate version of the present day, we have computers known as Persocoms that can be designed to look like toy figures, animals, and even people. Our story focuses on one such Persocom named Chi and her new owner, Hideki Motosuwa, who is too broke to buy one and yet is lucky enough to have found Chi in the trash.
8079 users added this.

A Life In Monotone Kosei Arima was a piano prodigy until his cruel taskmaster of a mother died suddenly, changing his life forever. Driven by his pain to abandon piano, Kosei now lives in a monotonous, colorless world.
437 users added this.
This show is set at Honn0ji Academy, a fictional high school in post-apocalyptic Japan that is dominated by its fearsome student council, led by Satsuki Kiryuin. The council members wear special uniforms called Goku Uniforms that grant them superhuman abilities, which they use to oppress the rest of the school's students and staff.
11577 users added this.
Ani.me's official listing has the Heartcatch Precure storyline, reviews, and Heartcatch Precure pictures that you need. Get to know everything about this Television Series show.
103 users added this.
In a place called Major Land, a Melody of Happiness is due to be played, spreading happiness throughout the world. However, an evil man named Mephisto steals the Legendary Score, plotting to turn it into a Melody of Sorrow to spread sadness across the land.
110 users added this.
Yumehara Nozomi, a regular student, finds a magical book called the Dream Collet in the library and meets Coco and Nuts, two creatures from the Palmier Kingdom. They plead with Nozomi to restore their world, which has been destroyed by an organization called the Nightmares, by completing the Dream Collet and finding the 55 Pinkies to make any wish come true.
112 users added this.
Ash is a young boy who has always dreamed of becoming a Pokemon trainer. At age 11 he is gifted his first Pokemon, Pikachu, from Professor Oak.
9557 users added this.