Anime Database
Sawa is a school girl, an orphan, and an assassin. She is being controlled by a corrupt cop who gives her targets to kill, detailing to her the crimes these men have committed in order to justify their death.
642 users added this.
Hellsing, a secret organization within the British government, has long been battling supernatural threats to keep people safe from creatures of the night. They have a secret weapon in the form of an incredibly powerful vampire Alucard.
8632 users added this.
Based on the manga by mangaka Kiminori Wakasugi, Detroit Metal City is an original video animation about a young man who is secretly a rock star from a metal band. Detroit Metal City was released on August 8, 2008, running with a total of 12 episodes and each one being 13 minutes long.
795 users added this.
Before the twelve vulgar humored episodes of the original video animation series were released, Detroit Metal City had its very first special episode on July 11, 2008. The special is entitled Detroit Metal City: Birth of the Metal Devil with the genre of Music, comedy and some slight romance, which the protagonist struggles with most of the time.
244 users added this.
Alucard is not just any immortal, but probably one of the oldest and strongest beings known to exist. This vampire, however, is duty bound to the Hellsing family, who acts as the dogs of England's queen, protecting the country from the most dangerous parts of the underground, namely other vampires.
9299 users added this.
A lone warlock, freed from years of imprisonment, stands against an army of destruction bent on world conquest and the resurrection of an ancient evil. Dark Schneider is the Bastard!
670 users added this.
A boy went to take his trash out late one night, and found a strange, creepy, lolita woman sitting amongst the garbage bags. She asked if he had a little sister, and he answered her, hurrying afterwards back to his apartment.
127 users added this.
Yosuga no Sora ("Sky of Connection") started out as a Japanese romance/drama adult visual novel developed by Sphere. The game was originally released for Windows PC on December 5, 2008.
1007 users added this.
The second season of Toaru Majutsu no Index. Index is still a fugitive and many powerful magical organizations and individuals want to take her to use the books in her memory, eliminating her in the process.
1440 users added this.
Following Saito's heroic actions in the War with Albion in season two, Saito & Louise return to Tristain, only to have the runes which bind Saito & Louise disappear. Saito & Louise struggle with a relationship no longer defined as Master & Familiar, as they search for an Elf who has the power to restore the dead to life, and may hold the key to understanding Saito's loss of the Gandalfr's power.
2063 users added this.

Enter the world of "Willow." Journey to the far corners of your imagination, to a land of myth and magic, where dream and reality live side by side .
41 users added this.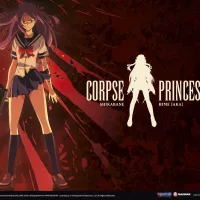 After being brutally murdered along with her family, Makina Hoshimura turns into a Shikabane Hime, a living corpse contracted to the Kougon Cult, in order to exert revenge on the mysterious undead organization responsible for her death. She is assisted in this task by Keisei Tagami, her contracted priest and former friend.
701 users added this.
The protagonist is Guys, a young boy from a poor family, who gets caught for stealing candy from a Paris store. And of course he will be investigated and punished.
35 users added this.