Maze [TV]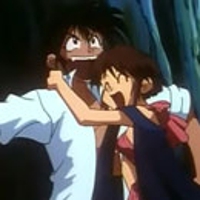 Plot Summary
You are viewing an unapproved revision.
An Earth girl named Maze suddenly finds herself and her house in a strange and magical forest, with no memory of how she got there (or much else for that matter). When she answers a knock at her door, she finds that she saved a princess named Mill when her house landed on Mill's pursuers. As they set out upon their journey, they are attacked by evil demi-humans and demi-armors – but all is not lost! It turns out that Maze has some kind of mystical powers, and Mill can summon a powerful demi-armor of her own. While Maze's powers are strong during the day, she has little control over them. Once night falls however, Maze transforms into a man; this version of Maze has even stronger powers and seems to have complete control over them. As they make more friends during their journey, it seems that everyone wants to get intimate with the female Maze, and the male Maze wants to get intimate with every female!
36 users added this.
Watched By
Comments