Naruto the Movie: Legend of the Stone of Gelel [Movie]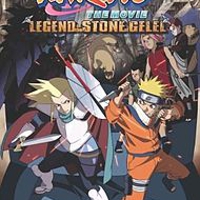 Plot Summary
The movie opens with a battle taking place at night on a desolate seaside beach between Sand Ninja and mysterious warriors wearing bulky suits of armor. Despite their best efforts, the Sand Ninja are slowly overwhelmed by the sheer strength of their mysterious opponents. The timely arrival of reinforcements led by Kankuro and Gaara turns the tide, with Kankuro slicing apart a suit of armor with his puppet, and Gaara dispatching a large number of enemies en masse with his signature Desert Imperial Funeral. However when Gaara orders the Sand Ninja to shine a flare at the retreating enemies, a large warship appears. The movie stars Naruto Uzumaki, Shikamaru Nara, and Sakura Haruno as they deliver a lost pet ferret (that Naruto unwittingly confuses for a cat, as he had never seen a ferret before) to its village. However, a mysterious knight called Temujin intercepts them and they fight, causing both Temujin and Naruto to be knocked off a cliff by the massive power caused by Naruto's Rasengan and Temujin's Rising Thunder. As Shikamaru and Sakura realize what has happened to Naruto, a giant ship appears.
Naruto wakes up to find himself bandaged and traveling in a caravan led by Kahiko and Emina. He also finds Temujin asleep beside him. When Temujin awakens, Nerugui (the lost pet ferret which was owned by Kahiko) seems to be attracted to him. The caravan is part of a moving country.
Meanwhile, Sakura and Shikamaru split up to search for Naruto. Shikamaru spies on the fortress and finds a lab with children in capsules. Two women with similar armor to what Temujin was wearing are talking about the Gelel Stone. After watching the process, Shikamaru realizes that the soldiers are being created by placing the souls of children in different bodies.
The movie revolves mostly around a special mineral called the Gelel Stone, which has a strong and mysterious power. There was once a clan that could control the stone's powers (the traveling caravan and Temujin are part of this
3773 users added this.
Watched By
Comments