On June 1983, Keiichi Maebara moves with his family to Hinamizawa, a peaceful rural village. He quickly befriends his new schoolmates Rena Ryugu, Mion Sonozaki, Satoko Hojo, and Rika Furude, usually spending their leisure time playing board games.
3887 users added this.
When the Social Welfare Agency investigates the disappearance of an operative, their inquiry leads them right into the lair of their rival, the Five Republics. The assassin Triela infiltrates the hostile organization, but her search is cut short when she finds herself staring down the barrel of a gun.
311 users added this.
"Henrietta" was an innocent little girl when her entire family was massacred and she was left for dead. She was rescued by a privately-owned social welfare organization and given cybernetic components over her battered body.
922 users added this.
Witches are individuals with special powers like ESP, telekinesis, mind control, etc. (not the typical hogwart and newt potions).
649 users added this.
Narrated by Mellow. There's a killer loose in Los Angeles and super-sleuth L is on the case.
158 users added this.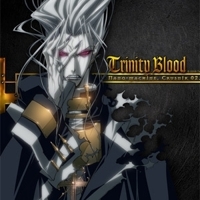 After the unsustainable growth of the human population on Earth, the United Nations has opted to colonize Mars. During this expedition, the humans discovered two alien technologies: The Bacillus virus and the Crusnik nanomachines.
3818 users added this.
There once was a man named Gold Rodger, a pirate, and he was given the glorious title: 'King of the Pirates' for possessing the legendary treasure, One Piece. He had fame, fortune, and power, until one day, he caught and brought to the execution tower to be executed.
16886 users added this.
The story of Death Note revolves around a high school student called Yagami Light. His life changed when he saw a supernatural notebook that fell from the sky.
25012 users added this.
Light Yagami is an intelligent young man who resents all crime and corruption, and believes there is an unending increase in these things that he must try to stop. His life undergoes a drastic change when he discovers a mysterious notebook, known as the "Death Note", lying on the ground.
3103 users added this.
In a world where being born with superpowers called a "Quirk" is the norm, a quirkless regular middle schooler Izuku Midoriya dreams to join the band of heroes that he grew to admire and love, and save the world. Despite being constantly bullied by his schoolmates for having no quirks, he does not give up on his dream and turns his attention into meticulous data gathering about the heroes instead.
13549 users added this.
Known for its Space Western theme, Trigun is about a man named "Vash the Stampede" and the two Bernardelli Insurance Society employees who follow him around in order to minimize the damages inevitably caused by his appearance. Most of the damage attributed to Vash is actually caused by bounty hunters in pursuit of the "60,000,000,000$$" (sixty billion "double dollars") bounty on Vash's head for the destruction of the city of July.
8675 users added this.
Jin, a mysterious kid with a halo carved in his hand, and extraordinary fighting skills, lives with his grandfather in a beggar's community. In other place, the old scientist Amagi is searching for professor Kanzaki, to ask him for the whereabouts of the "player" -a kind of genetic altered humans- Zet, which they created some years ago.
162 users added this.