A group of scientists obtain a fossilised eyelash of the legendary Pokémon, Mew, and clone it to create a supersoldier named Mewtwo. The project is successful as it awakens, but upon learning the scientists plan to treat him as an experiment, Mewtwo unleashes his psychic powers and destroys the laboratory Giovanni, leader of Team Rocket and the project's benefactor, convinces Mewtwo to work with him to hone his powers.
374 users added this.

New Sailor Moon anime commemorating the 20th anniversary of Sailor Moon. Usagi Tsukino is a second-year middle school girl who is a little clumsy and a crybaby, but she is full of energy.
526 users added this.
Bishoujo Senshi Sailor Moon is a story about a klutzy, crybaby, 14 year old underachiever named Tsukino Usagi who was given some transformation items and super powers. Usagi transforms into the pretty, sailor suited fighter called Sailor Moon to fight against evil.
4137 users added this.
aka: "Youkoso Jitsuryoku Shijou Shugi no Kyoushitsu e" Koudo Ikusei Senior High School is a leading prestigious school with state-of-the-art facilities where nearly 100% of students go on to university or find employment. The students there have the freedom to wear any hairstyle and bring any personal effects they desire.
709 users added this.
Hori may seem like a normal teenage girl, but she's a completely different person after school. In her workaholic parents' absence, Hori has been like a parent for her little brother since she was young herself.
316 users added this.
A girl named Rachel wakes up in an unknown place with no memory of how she got there or what her life was. She starts to explore the area and ends of finding a bunch of psychopathic people that each have their own floor in the building that their in.
907 users added this.

One day, Takamiya Naho receives a letter written to herself from ten years in the future. As Naho reads on, the letter recites the exact events of the day, including the transfer of a new student into her class named Naruse Kakeru.
271 users added this.
Lawrence III, a Pokémon collector, strives to make a legendary prophecy occur. His plan to capture the legendary birds Moltres, Zapdos and Articuno will ultimately lead to the capture of the "Beast of the Sea" Lugia.
83 users added this.
A Pokémon Collector, Lawrence III, wishes to capture the three legendary birds and follow the legend's tale. This is all part of his plan to capture the Beast of the Sea, Lugia.
1547 users added this.
After losing both parents in a fatal plane crash, teenager Ryuuichi Kashima must adjust to his new life as the guardian of his younger brother Kotarou. Although Ryuuichi is able to maintain a friendly and kindhearted demeanor, Kotarou is a reserved toddler still too young to understand the reality of the situation.
277 users added this.
My Little Monster focuses on the relationship between Shizuku Mizutani, who has absolutely no interests except in studying and her plans for the future, and a boy named Haru Yoshida, who sits next to Shizuku in class but rarely attends school. After Shizuku is tasked with delivering class printouts to Haru's home, she meets Haru, who immediately greets her as a friend, starting their new relationship.
1843 users added this.

its about two students a boy and a girl that liked each other but one had to move and a couple years later they meet in high school
148 users added this.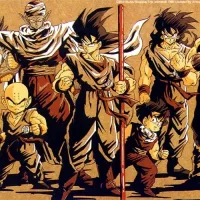 Goku is back with his new son, Gohan, but just when things are getting settled down, the adventures continue. Whether he is facing enemies such as Frieza, Cell, or Buu, Goku is proven to be an elite of his own and discovers his race, Saiyan and is able to reach Super Saiyan 3 form.
17234 users added this.
In a world where being born with superpowers called a "Quirk" is the norm, a quirkless regular middle schooler Izuku Midoriya dreams to join the band of heroes that he grew to admire and love, and save the world. Despite being constantly bullied by his schoolmates for having no quirks, he does not give up on his dream and turns his attention into meticulous data gathering about the heroes instead.
19719 users added this.
The second season of the Sailor Moon anime series, titled Pretty Soldier Sailor Moon R (??
595 users added this.