Sato Tatsuhiro is a drug-addled "hikikomori" (a Japanese shut-in) who thinks a sinister organization, NHK (Nihon Hikikomori Kyoukai), is the cause of all his problems! He falls in love with a girl, Misaki, who he thinks is trying to assassinate him, but doesn't know how to talk to her or if he can trust her.
285 users added this.

Ani.me's official listing has the Eureka 7 storyline, reviews, and Eureka 7 pictures that you need. Get to know everything about this Television Series show.
138 users added this.

After a traffic accident, Kazuma Sato's disappointingly brief life was supposed to be over, but he wakes up to see a beautiful girl before him. She claims to be a goddess, Aqua, and asks if he would like to go to another world and bring only one thing with him.
3459 users added this.
It is mid-december, and SOS Brigade chief Haruhi Suzumiya announces that the Brigade is going to hold a Christmas party in their clubroom, with Japanese hotpot for dinner. The brigade members Kyon, Nagato Yuki, Asahina Mikuru and Koizumi Itsuki start preparing everything for the party, such as costumes and decorations.
282 users added this.
Aliens, Espers, and Time Travelers collide around a young girl with the most ultimate power. The Melancholy of Haruhi Suzumiya is about a girl known as Haruhi and a boy she meets in school.
9053 users added this.

A drill that will pierce the heavens!!
280 users added this.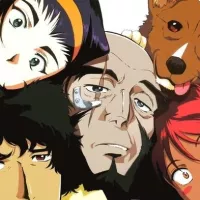 See You Space Cowboy is the titular theme of this space odyssey action show, Cowboy Bebop. Earning bounty rewards is one of the few profitable jobs outside of crime in the solar system - and Spike and Jet are just doing their work as they get mixed up with even more interesting people.
15953 users added this.
Common wisdom is that being a soldier is a rather nasty busines with a great deal of blood and killing, and that's still true after mankind had discovered a way to cross interstellar distances. Within the military, the ways of war have been refined and practiced to a point where very little can be considered new.
248 users added this.
The story revolves around Mahiro Fuwa, a teenager whose sister was mysteriously murdered one year before, and his friend Yoshino Takigawa. Mahiro is contacted by Hakaze Kusaribe, the leader of the Kusaribe clan who was left stranded on an unknown deserted island by her followers, and agrees to help Hakaze in exchange for her help to find out the culprit for the death of his family.
412 users added this.