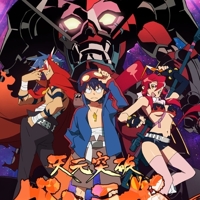 Gurren Lagann takes place in a fictional future where Earth is ruled by the Spiral King, Lordgenome, who forces mankind to live in isolated subterranean villages. These villages have no contact with the surface world or other villages, and are under constant threat of earthquakes.
8355 users added this.
Akko Kagari is a girl who joins an academy for young witches after being inspired at a young age by a witch named Shiny Chariot, and often spends her days hanging with her classmates, Lotte and Sucy. However, she has trouble paying attention in class, doesn't know how to ride her broom, and is often looked down upon for admiring Chariot, whom many believe gives the wrong impression about witches.
995 users added this.
A desolate land stretches out from the city of poverty. A motorcycle speeds recklessly, blowing clouds of sand and dust.
398 users added this.