Misumi Nagisa is an extremely sporty, popular student who hates studying, and has a very extreme sense of justice, Yukishiro Honoka is a top student who appears to be elegant, but is actually very clumsy. They are both second year students at the Verone Middle School for girls.
231 users added this.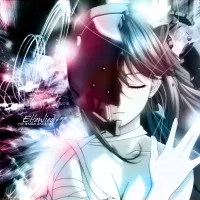 Mutated homo sapiens that have a dangerous telekinetic power is being captured and isolated in laboratories by the government. One of the sixth-sense-possessing humanoids escapes loses her memories and winds up living with a boy from her past.
14234 users added this.
This story is centered around a girl named Kuronuma Sawako who is nicknamed Sadako (ghost girl from "The Ring") by her classmates because of her scary face and demeanor. She greatly admires Kazehaya-kun from afar, he is "100% refreshing" and is able to draw in people with his personality.
2559 users added this.
Yukiteru "Yuki" Amano is a loner who spends most of his time writing a diary on his cell phone or talking with his imaginary friends Deus Ex Machina, the God of Time and Space; and Murmur, Deus' servant. One day, Deus gives Yuki a special diary, mentioning something about a game.
5274 users added this.
Masamune Izumi is a high school student who writes light novels. Sagiri Izumi is a shut-in who never leaves her room.
854 users added this.
Madoka Kaname used to be a normal girl living happy days of her life. This all ended when she sacrificed herself in order to save other magical girls from the utterly cruel fate that awaited them.
940 users added this.
Beloved family, good friends, laughter and tears - these things make up the ordinary life of Kaname Madoka, a second year student of Mitakihara City Middle School. One night, Madoka dreams of a mysterious dark haired girl struggling against a terrible evil; the next morning she discovers that the girl, Akemi Homura, has transferred into her class.
6455 users added this.
Ani.me's official listing has the Heartcatch Precure storyline, reviews, and Heartcatch Precure pictures that you need. Get to know everything about this Television Series show.
103 users added this.
Yumehara Nozomi, a regular student, finds a magical book called the Dream Collet in the library and meets Coco and Nuts, two creatures from the Palmier Kingdom. They plead with Nozomi to restore their world, which has been destroyed by an organization called the Nightmares, by completing the Dream Collet and finding the 55 Pinkies to make any wish come true.
112 users added this.
Lain Iwakura appears to be an ordinary girl, with almost no experience with computers or technology. Yet the sudden suicide of a schoolmate, and a number of strange occurrences, conspire to pull Lain into the world of the Wired, where she gradually learns that nothing is what it seems to be.
1506 users added this.