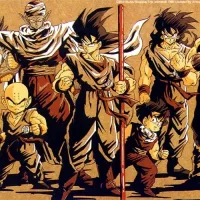 Goku is back with his new son, Gohan, but just when things are getting settled down, the adventures continue. Whether he is facing enemies such as Frieza, Cell, or Buu, Goku is proven to be an elite of his own and discovers his race, Saiyan and is able to reach Super Saiyan 3 form.
15449 users added this.

Soma Yukihira 15 years old , whose dream is to become a full time chef in his father's restaurant and surpass his father's culinary skills. After Junior High he finds out his father is closing the Restaurant.
1362 users added this.
The Dragon Ball Super manga picks up the story of Goku and his adventures following the defeat of Majin Buu, but prior to the final chapters involving the 28th World Martial Arts Tournament. While an adaptation of Toriyama's outline, it has many storyline differences when compared to the two most-recent Dragon Ball Z movies and the Dragon Ball Super anime.
1215 users added this.
Ani.me's official listing has the Fairy Tail 2014 storyline, reviews, and Fairy Tail 2014 pictures that you need. Get to know everything about this Television Series show.
2142 users added this.
Kami-sama's old nemesis's son has come to exact revenge on Kami-sama for winning the title of Earth's Guardian. After kidnapping Son Gohan and using the dragon balls to gain immortality, he has a final showdown with Goku.
1318 users added this.
A young sorceress, Lucy Heartfilia, travels to the land of Fiore to join the magical Fairy Tail Guild. Along the way, she meets Natsu Dragneel, a teenage boy looking for a dragon named Igneel.
18333 users added this.
aka:"My First Girlfriend is a Gal" Spring. The "season of love" has arrived and it seems that finding himself a girlfriend was harder than Junichi believed.
488 users added this.
Magic Knight Rayearth: The Power of Three will set you free Synopsis Magic Knight Rayearth is one of the most famous animes created by CLAMP. It was directed by Toshihiro Hirano and went on air for the first time on October 17, 1994.
981 users added this.
aka: Love and Lies Lies are forbidden and love is doubly forbidden. In the near future, when young people in Japan turn sixteen, they are assigned a marriage partner by the government.
244 users added this.
Years after the end of the Dragonball GT, the story continues in this special with Son Goku's now eldery granddaughter Pan, and a new generation of super saiyajins, the great-great-grandsons of Goku and Vegeta 100 years after the end of DBGT, all the heroes of Earth have died..
1646 users added this.
Trigun: Badlands Rumble is a 2010 film by Madhouse. It is based on the Trigun manga, written by Yasuhiro Nightow.
2302 users added this.
There once was a man named Gold Rodger, a pirate, and he was given the glorious title: 'King of the Pirates' for possessing the legendary treasure, One Piece. He had fame, fortune, and power, until one day, he caught and brought to the execution tower to be executed.
19427 users added this.