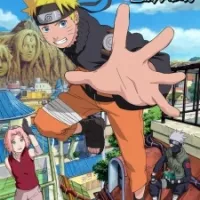 Naruto: Shippuuden is the continuation of the original animated TV series Naruto.The story revolves around an older and slightly more matured Uzumaki Naruto and his quest to save his friend Uchiha Sasuke from the grips of the snake-like Shinobi, Orochimaru.
23303 users added this.
This violent saga takes place in a world mixing modern technology with traditional Japanese culture. Afro Samurai seeks nothing more than revenge on the maniacal murderer who beheaded his father in front of his eyes as a child.
6596 users added this.

a two part OVA in japan changed to MOVIE in the U.S.
67 users added this.
A group of high school teenagers are suprised one day to find that the citizens of Tokyo are turning into zombies. They band together to stay alive and escape.
10881 users added this.
Yukiteru Amano (or Yuki) is a loner who never really interact with people and prefers writing a diary on his cell phone with his only companion being an imaginary friend named Deus Ex Machina, the God of Time and Space. However, Yuki soon learns that Deus is not a figment of his imagination but real when Deus makes him a participant in a battle royale with eleven others.
7393 users added this.
Lucy, a 17 year old girl, sets out on journey to become a full-fledged wizard and joins the strongest and most (in)famous guild FAIRY TAIL where she meets Natsu, Happy, Gray and Erza, who treat her more like family than friends. This epic series takes us through all the dangers that the members of fairy tail face and eventually overcome through mutual love and friendship.
2436 users added this.
An angry, tired, and irrational God of all destruction has appeared to challenge a cast of this franchise's most iconic characters! Dragon Ball Super follows the aftermath of Goku's incredibly fierce battle against Majin Buu as he tries to maintain the fragile peace that exists on Earth.
3746 users added this.
This show is set at Honn0ji Academy, a fictional high school in post-apocalyptic Japan that is dominated by its fearsome student council, led by Satsuki Kiryuin. The council members wear special uniforms called Goku Uniforms that grant them superhuman abilities, which they use to oppress the rest of the school's students and staff.
9875 users added this.