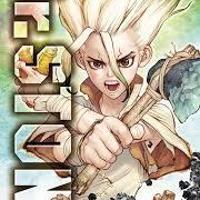 One fateful day, all of humanity was petrified by a blinding flash of light. After several millennia, high schooler Taiju awakens and finds himself lost in a world of statues.
1100 users added this.
aka: "Youkoso Jitsuryoku Shijou Shugi no Kyoushitsu e" Koudo Ikusei Senior High School is a leading prestigious school with state-of-the-art facilities where nearly 100% of students go on to university or find employment. The students there have the freedom to wear any hairstyle and bring any personal effects they desire.
484 users added this.
The story of Death Note revolves around a high school student called Yagami Light. His life changed when he saw a supernatural notebook that fell from the sky.
24975 users added this.
Fullmetal Alchemist: Brotherhood, commonly referred to as FMAB is the second adaptation of the hit manga series Fullmetal Alchemist by Hiromu Arakawa. In 2003, shortly after the manga began its run, the first adaptation titled Fullmetal Alchemist was made.
21336 users added this.
Taken from AniDB - Once, there was a group of close childhood friends. However, by the time they entered high school, they had grown apart from each other.
1226 users added this.
Attack on Titan (literally translated as "Advancing Giants") is a Japanese manga series, and now an anime, originally written and illustrated by Hajime Isayama. The story centers around the lives of Eren Yeager, his adoptive sister Mikasa Ackerman, and their friend Armin Arlert, who live in a world where the remnants of the human population live inside cities surrounded by enormous walls due to the sudden appearance of the Titans, gigantic humanoid creatures who devour humans seemingly without reason.
23908 users added this.
Hinata is a really enthusiastic person who loves volley ball, he meets the "king" of vollyball and looses
465 users added this.
In a world where being born with superpowers called a "Quirk" is the norm, a quirkless regular middle schooler Izuku Midoriya dreams to join the band of heroes that he grew to admire and love, and save the world. Despite being constantly bullied by his schoolmates for having no quirks, he does not give up on his dream and turns his attention into meticulous data gathering about the heroes instead.
13509 users added this.
The story revolves around Rin Okumura, a teenager possessing abnormal strength and endurance who, along with his younger twin brother Yukio, was raised by Father Shiro Fujimoto. Soon after Yukio departs to study at the prestigious True Cross Academy, Rin learns that he is the son of Satan, the strongest of all demons.
9119 users added this.
The suspense horror/dark fantasy story is set in Tokyo, which is haunted by mysterious "ghouls" who are devouring humans. People are gripped by the fear of these ghouls whose identities are masked in mystery.
13986 users added this.
In the year 2022, the gaming industry has reached a new height after the development of the NerveGear, a helmet-like controller that allows the user to fully dive their senses into the world of virtual reality. After a closed beta with only 1,000 testers, the Virtual Reality MMORPG Sword Art Online is launched.
23547 users added this.
Shibusen, standing for Death Weapon Meister Academy (DWMA) the technical school for Reaper Armsmasters that operates from the deepest recesses of all the corners of the world, in order to prevent the second coming of the so-called Demon God who is feared upon bringing destruction of all humankind and envelop the world with nothing but madness and darkness. The reaper built this agency for weapons and for those who will be trained to wield them.
20628 users added this.
It's a new school year and Ryuuji Takasu discovers not only is he in the same class as his best friend, Yusaku Kitamura, but also Minori Kukshieda whom he's had an undisclosed crush on for quite some time. Ryuuji, the main character, runs into Aisaka Taiga who happens to live next door.
11107 users added this.
Angel Beats! takes place in an afterlife high school, which acts as limbo for teenagers who have died and experienced traumas or hardships during their lifetime.
12295 users added this.