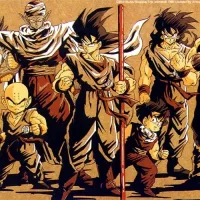 Goku is back with his new son, Gohan, but just when things are getting settled down, the adventures continue. Whether he is facing enemies such as Frieza, Cell, or Buu, Goku is proven to be an elite of his own and discovers his race, Saiyan and is able to reach Super Saiyan 3 form.
17925 users added this.
After a nuclear holocaust tears the world apart, mankind is forced to the harshness of not only the oppression of others who are much more powerful, but the dead earth which seems to be getting worse with every passing moment. But a savior has risen from the ashes, a man who will defeat those who would torment the weak and make the world a livable place once more.
257 users added this.
This violent saga takes place in a world mixing modern technology with traditional Japanese culture. Afro Samurai seeks nothing more than revenge on the maniacal murderer who beheaded his father in front of his eyes as a child.
7270 users added this.
Beastars is a Japanese manga series written and illustrated by Paru Itagaki. It was recently adapted into an anime on netflix.
769 users added this.