Princess Tutu The story of Princess Tutu starts with a duck who fell in love with a prince and if she confess, she will turn into a speck of light. It is inspired by ballet and fairytales.
1142 users added this.
Karin Maaka is the middle child in a family of vampires who immigrated to Japan two centuries earlier. Unlike the rest of her family, Karin does not feed on blood, she produces it.
1788 users added this.
Haruhi Fujioka is searching for nothing more than a quiet place to study in the most elite high school academy in all of Japan when she stumbles across the mysterious third music room. Inside she encounters six beautiful men, the members of the host club.
12515 users added this.
Thee story of Black Butler follows one wealthy young aristocrat, Ciel Phantomhive, and his demond butler Sebastian, who is known as One Hell of a Butler. Just a stone's throw away from London lies the manor house of the illustrious Phantomhive earldom and its young master, Ciel Phantomhive.
10494 users added this.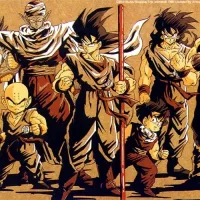 Goku is back with his new son, Gohan, but just when things are getting settled down, the adventures continue. Whether he is facing enemies such as Frieza, Cell, or Buu, Goku is proven to be an elite of his own and discovers his race, Saiyan and is able to reach Super Saiyan 3 form.
15440 users added this.
A group of 15 elite high school students are gathered at a very special, high class high school. To graduate from this high school essentially means you'll succeed in life, but graduating is very difficult.
1310 users added this.
A hilarious Slap stick comedy with plenty of transgenders and occasional raunchy themes. Shonen Ai and Hentai~ Who would have thought it was possible?
3972 users added this.
This is the series BEFORE the more well known international version "Yugioh! Duel Monster".
2101 users added this.
Yuki Cross earliest memory is of being attacked by an insane "Level E" type vampire and saved by Kaname Kuran, a pureblood vampire for whom Yuki tries to deal with her seemingly unobtainable love for her hero. Ten years later, Yuki, along with her childhood friend, Zero Kiryu are school guardians at Cross Academy where her adoptive father, Kaien Cross is the headmaster.
1779 users added this.
Set in a fictional 19th century world, D.Gray-Man tells the story of 15 year old Allen Walker, a boy who roams the earth in search of innocence.
6613 users added this.