Final episode (designated as Episode 8) of Candy Boy which came with DVD volume 2. The episode centres around a day at the pool.
360 users added this.
A princess prophesied to destroy the world at the age of 16 was abandoned and thrown into chasm right after birth. This, though the truth, was forbidden to be spoken of by anyone in the country.
1056 users added this.
In a world where having superpowers is the norm, heroes fight day and night against the villains who terrorize the populace in order to keep peace and order in the society. The story follows a seemingly bland but extremely powerful individual named Saitama, who initially fights as a hero for fun.
11994 users added this.
Three middle school girls are overjoyed to be soon graduating to high school status, and they sneak into their new high school, a private school, for a peak a day before their admission. But everything starts to get out of control when they meet three other middle schoolers who mistake them for high school students and start calling them Senpai.
128 users added this.
Shinnosuke "Shin-chan" Nohara is a little boy who seems to do everything he can to annoy his parents and teachers (and succeeds wildly), but only means the best. He just tries to have a good time and in doing so does things which will create the maximum vexation in others.
768 users added this.
In an alternate version of the present day, we have computers known as Persocoms that can be designed to look like toy figures, animals, and even people. Our story focuses on one such Persocom named Chi and her new owner, Hideki Motosuwa, who is too broke to buy one and yet is lucky enough to have found Chi in the trash.
7111 users added this.
There once was a man named Gold Rodger, a pirate, and he was given the glorious title: 'King of the Pirates' for possessing the legendary treasure, One Piece. He had fame, fortune, and power, until one day, he caught and brought to the execution tower to be executed.
17153 users added this.
Haruhi Fujioka is searching for nothing more than a quiet place to study in the most elite high school academy in all of Japan when she stumbles across the mysterious third music room. Inside she encounters six beautiful men, the members of the host club.
11664 users added this.
Aliens, Espers, and Time Travelers collide around a young girl with the most ultimate power. The Melancholy of Haruhi Suzumiya is about a girl known as Haruhi and a boy she meets in school.
7892 users added this.
The music anime will follow the daily lives and associated drama of four of TsukiPro's very unique groups — SolidS, Quell, SOARA, and Growth
69 users added this.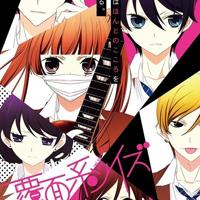 Every day, a young girl wearing a mask stands by the beach and sings a nostalgic melody. After experiencing two sudden heart-wrenching partings when she was only a child, Nino Arisugawa has been singing her songs to the ocean, bound by a promise made with her two childhood friends—her first love, Momo Sakaki, and a boy who composed music, Kanade "Yuzu" Yuzuriha.
189 users added this.
One evening in fall, with one month left before the school festival, the last member of the ruined light music club, Haruki Kitahara, looks out the window and plays his guitar in the direction of the festival stage set up outside. This was the simple little adventure that the conscientious honor student had hoped for two and a half years to achieve before his graduation in half a year.
183 users added this.
With dreams of becoming a composer and someday writing a song for her favorite idol, Haruka enters the Saotome Academy, a prestigious performing arts school. If successful there, she'll be able to join the Shining Agency after graduation.
972 users added this.
Tough on the outside, all heart on the inside, Onizuka turned to the life of a high school teacher for less excitement and action..
4992 users added this.