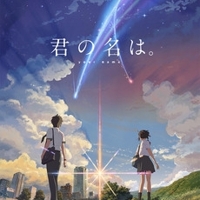 Kimi No Na Wa (2016) The story is set one month after a comet has fallen for the first time in a thousand years in Japan. Mitsuha, a high school girl living in the countryside, wants to live in the city because she is tired of life in the country.
3009 users added this.
Rintaro Okabe is a self-proclaimed "mad scientist" who believes that an international scientific organization named SERN is conspiring to reshape the world according to its own interests. He and his friend Itaru Hashida inadvertently create a gadget able to send messages to the past.
6087 users added this.
Shōya Ishida walks along a bridge, contemplating suicide. He flashbacks to his elementary school days when his teacher introduces a new student, Shōko Nishimiya, who is deaf.
2314 users added this.
The story of Death Note revolves around a high school student called Yagami Light. His life changed when he saw a supernatural notebook that fell from the sky.
25305 users added this.
It's a new school year and Ryuuji Takasu discovers not only is he in the same class as his best friend, Yusaku Kitamura, but also Minori Kukshieda whom he's had an undisclosed crush on for quite some time. Ryuuji, the main character, runs into Aisaka Taiga who happens to live next door.
11256 users added this.
Angel Beats! takes place in an afterlife high school, which acts as limbo for teenagers who have died and experienced traumas or hardships during their lifetime.
12433 users added this.
Yuuta Togashi suffered from chuunibyou while he was in middle school. When he graduated, he put that dark history behind him and forgot about it.
1800 users added this.
Kuroki Tomoko is a super popular, high school girl who has had 50 years of dating experience and 100 boys… in the Otome game world. In the real world, she is a 15-year-old shut in who has all of the qualities of a "mojo" (a gloomy or unpopular woman).
2896 users added this.
After a traffic accident, Kazuma Sato's disappointingly brief life was supposed to be over, but he wakes up to see a beautiful girl before him. She claims to be a goddess, Aqua, and asks if he would like to go to another world and bring only one thing with him.
2266 users added this.
Dating sim master Keima Katsuragi wants nothing more than to immerse himself in the 2D world, chasing digital girlfriends. But when the so-called "Capturing God" answers a mysterious email from an unknown sender, Keima finds himself chasing down real-life ladies in an attempt to help the peppy demon Elsie de Lute Irma capture "lost souls" escaped from the depths of hell.
2022 users added this.
Beloved family, good friends, laughter and tears - these things make up the ordinary life of Kaname Madoka, a second year student of Mitakihara City Middle School. One night, Madoka dreams of a mysterious dark haired girl struggling against a terrible evil; the next morning she discovers that the girl, Akemi Homura, has transferred into her class.
5559 users added this.