The Dragon Ball Super manga picks up the story of Goku and his adventures following the defeat of Majin Buu, but prior to the final chapters involving the 28th World Martial Arts Tournament. While an adaptation of Toriyama's outline, it has many storyline differences when compared to the two most-recent Dragon Ball Z movies and the Dragon Ball Super anime.
919 users added this.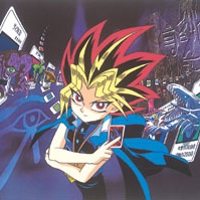 This is the series BEFORE the more well known international version "Yugioh! Duel Monster".
1985 users added this.
Kurosaki Ichigo is not your average, everyday 15-year-old high school student. He has from as far he can remember always had the ability to see ghosts and spirits.
19624 users added this.
15-year-old Seina Yamada was your average high school student..
1819 users added this.
Bloodthirsty demons lurk in the woods, and nobody dares to venture out at night, save for the demon slayer of legend. Surviving in this harsh world, young Tanjirou takes it upon himself to protect his family–until the day that everything is taken from him in a vicious slaughter.
2858 users added this.
Ani.me's official listing has the Boruto: Naruto Next Generations storyline, reviews, and Boruto: Naruto Next Generations pictures that you need. Get to know everything about this Manga show.
962 users added this.
Naruto: Shippuuden is the continuation of the original animated TV series Naruto.The story revolves around an older and slightly more matured Uzumaki Naruto and his quest to save his friend Uchiha Sasuke from the grips of the snake-like Shinobi, Orochimaru.
21474 users added this.
After fighting in numerous interstellar wars, mankind forms the Galactic Union to bring stability and to prevent conflicts between different planets. However, disputes between members of the union itself persists.
328 users added this.
After a short-lived attempt to escape, Masane Amaha's daughter is taken away from her by the government's child welfare agency. She later discovers that she possesses a powerful weapon called Witchblade, after her bracelet activated when a monster tried to attack her.
2025 users added this.
Failure Human Tsukune is unexpectedly put into a school for monsters, where he meets the cute vampire Moka. He later meets succubus, Kurumu, a young witch genius, Yukari, an ice girl, Mizore, and Ruby a second older Witch Adept, Ruby.
3220 users added this.
Karin Maaka is the middle child in a family of vampires who immigrated to Japan two centuries earlier. Unlike the rest of her family, Karin does not feed on blood, she produces it.
1752 users added this.
Lucario and the Mystery of Mew opens over the foggy landscape of Rota, with Ho-oh flying overhead. Then it goes to Lucario, who is jumping from rock to rock.
724 users added this.