Crying Freeman [Movie]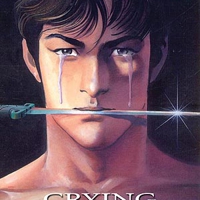 Plot Summary
You are viewing an unapproved revision.
Y? Hinomura, a Japanese potter, comes into the possession of some film showing an assassination by an agent of the 108 Dragons, a powerful Chinese mafia. When he refuses to turn the film over to them, they kidnap him. Hypnotized, he is trained as an assassin for them and his body is tattooed with dragons. He is given the codename "Crying Freeman," because he cries after a kill and longs to be free.
One of his killings is witnessed by Emu Hino, a lonely and beautiful Japanese artist. Knowing he must kill her, she paints his portrait and waits for him to come. When he does so, she tells him that she is tired of being alone and wishes to end her life. She asks for a favor before he kills her – to make love to her, so that she will not die as a virgin. He grants her wish, but finds he cannot kill her and they fall in love. The killing she witnessed was of a yakuza boss, however, so the yakuza want to find her so that they can find the killer. One of the yakuza attempts to enter Emu's home and force her to disclose the name of the killer, critically injuring her. Freeman takes her to the hospital and tells her to meet him at Hinomura Kiln, where he intends to part with her. Instead, she accompanies him back to the 108 Dragons, where he tattoos her with tigers and they marry.
The heads of the 108 Dragons decide to name Freeman as their heir. He is given the Chinese name Lóng Tài-Yáng, and Emu is renamed H? Q?ng-Lán, as both pass the tests given to them. It proves not as easy as that, however, as they must contend with challenges to the leadership from Bái-Yá Shàn, the granddaughter of the leaders of the 108 Dragons, and attempts to destroy the Dragons from other underground organizations.
17 users added this.
Watched By
Comments